Understanding BT Openreach Stop Sell and Its Impact on Business

BT Stop Sell is an important milestone on the road to the closure of the copper-based public telephone network (PSTN). It will have a significant impact on homes and businesses across the country. In this blog post, we will define what BT Openreach Stop Sell is, discuss its impact on businesses, explore alternative services, and provide you with an action plan for a seamless transition. 
What is BT Openreach Stop Sell?
BT Openreach Stop Sell refers to the cessation of selling certain Openreach products, as announced by BT in 2017. One of the key dates, which seemed a long way off at the time, is September 2023. This is when you will no longer be able to place orders for new analogue phone lines, and restrictions will be imposed if you want to migrate or transfer analogue, or ISDN lines. This applies to all analogue based services such as voice lines, ADSL and FTTC broadband, alarm, CCTV and lift lines. 
Whilst you can still use these phone lines until they are withdrawn, the Stop Sell is part of the bigger plan to close down the Public Switched Telephone Network (PSTN) by December 2025. So you have at best, two years to prepare and act. 
We want to hear about your challenges. Talk to us! Our consultants can audit your systems, plan changes, implement improvements and support your people. 
Impact on Business
As the analogue network is progressively being shut down, broadband connectivity speeds are slowly being downgraded, and the call quality on analogue lines will no longer be assured. BT are also raising prices to encourage businesses to switch to the new fibre-based services sooner rather than later. 
We strongly advise you to review your existing services, and to plan and budget for the necessary upgrades so that you can minimise any service disruptions.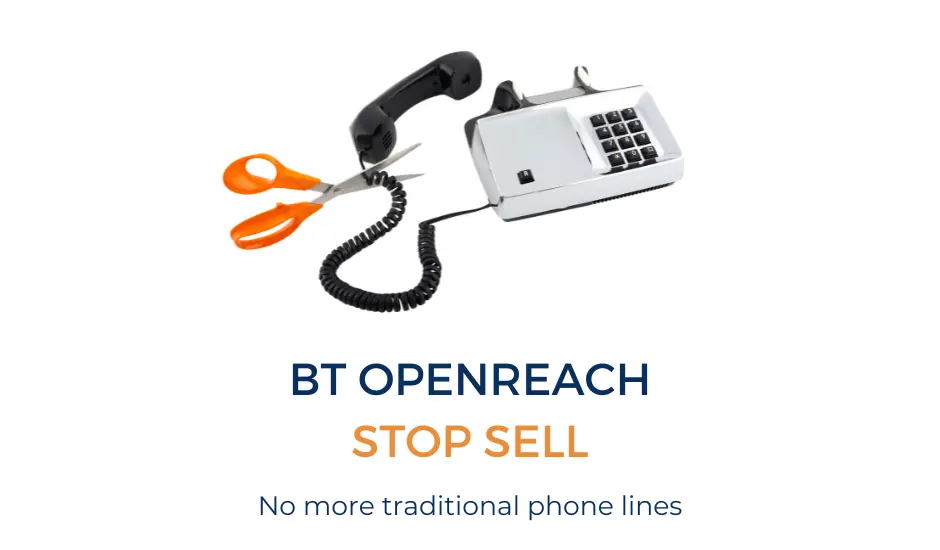 Alternatives to Affected Services
Whether you use analogue PSTN lines for voice or data, it is important to look for internet cloud-based or mobile alternatives.  
Fibre broadband lines can support all the services and applications that you have now, including voice, data, CCTV and EPOS applications. Alternatively, mobile data SIMs may be more expedient in some circumstances dependant on your location. Read more here: Fibre Broadband for Business.
Whatever you choose, you are likely to have to upgrade your receiving equipment, such as your alarm, lift or CCTV. For this reason it is important not to delay in the planning. We recommend speaking with your equipment suppliers and service providers as soon as possible. 
If you are unsure where to start, companies like ours will audit your services and provide expert advice on the most suitable alternatives for you. Alternatively, follow our action plan. 
Action Plan
To help you minimize disruption here is our step-by-step guide to ensure a smooth transition. 
Check whether you are still using analogue or ISDN lines. Remember that they could be being used for services such as alarms and fax machines. 

 

If you are using analogue lines, speak with your current provider to explore what alternatives are available. In the first instance this is likely to be the equipment provider as much as the network provider. A key question to ask is "How can we update our lift/EPOS system/CCTV/door entry system… to cope with the PSTN switch off?"

Review their responses. Choose the upgrade or replacement solution that best aligns with your business requirement and budget.

 

Plan the migration process to minimize downtime and ensure a seamless transition. Act now. Do not leave the migration until December 2025. There will inevitably be a rush as the deadline approaches and continuity of service may not be guaranteed.

 
The BT Openreach Stop Sell in September 2023 is a milestone that we all need to take notice of. If you are concerned about business continuity and would like to reap some of the benefits of the new fibre-based services, start planning your migration now.  
Create your own action plan, or engage with one of our experts who will conduct a services review for you. Remember, preparation is key to future-proofing your business continuity and communications. 
Contact us to stay ahead of the game and future-proof your business communications today!  
We want to hear about your challenges. Talk to us! Our consultants can audit your systems, plan changes, implement improvements and support your people. 
To give you confidence in our service, get to know us and how we work, contact us for your Free IT Audit.
The IT Audit 
Provides us with the information to assess the status of your systems.

Identifies any vulnerabilities and potential concerns.

Shows you how we manage your systems and report back.
We want to hear about your challenges. Talk to us! Our consultants can audit your systems, plan changes, implement improvements and support your people. 
Call us on 0118 920 9420
Email us  [email protected]