The Power of Collaboration with Microsoft Teams

Nowadays, digital, and remote collaboration has become more essential than ever. The key to success is effective teamwork. Whether you are working on a project budget or developing a presentation. Luckily, there is a powerful tool that can revolutionize how teams collaborate: Microsoft Teams. Imagine working together where you can share ideas and get work done on time. Microsoft Teams makes it all possible, empowering your business to achieve more together. 
In this article, we will explore the benefits of using Microsoft Teams, and how it can supercharge your business collaborative efforts.  
Understanding Microsoft Teams and its features
Microsoft Teams is a collaborative platform released by Microsoft in 2017. The main purpose of the platform is to help teams work better and faster together. The platform offers many features, like chat rooms, video conferencing and file sharing. And it integrates with other Microsoft Office applications such as Word and Excel. It also provides tools for organizing and tracking progress on projects and tasks. 
In a few words, Microsoft Teams simplifies real-time communication and collaboration from anywhere. 
We want to hear about your challenges. Talk to us! Our consultants can audit your systems, plan changes, implement improvements and support your people. 
Advantages of using Microsoft Teams for collaboration
With Teams, you have a powerful platform that revolutionizes how you work together. One standout advantage is the ability to co-author documents in real time. Are you working on a business proposal, a marketing plan, or a financial report? Teams enable many team members to work on the same document at the same time. This simplifies editing, feedback, and version control. 
But that is not all. Teams goes beyond document collaboration. It can integrate with popular project management apps like Trello and Asana. This integration allows you to bring all your project tasks and deadlines into one space. This means increased efficiency, improved communication, and enhanced productivity for the team.  
It looks like a lot, so let us summarize it in four easy advantages points: 
Centralized Communication

Microsoft Teams provides a centralized hub where team members can communicate in real-time. Say goodbye to endless email chains and disjointed conversations. With Teams, you can have instant conversations, share ideas, and collaborate.

Accessibility Anytime, Anywhere

Whether you are at home, in the office, or on the go, Teams ensures that you are always connected. It works across devices and operating systems. So, you can access your team's work from your computer, tablet, or smartphone. Collaboration has never been more flexible and convenient!

Real-Time Collaboration

Microsoft Teams helps people work together even when they are not in the same place. You can co-author documents at once, edit files, and provide instant feedback. This fosters creativity, improves efficiency, and ensures everyone is on the same page. 

Security and Data Protection

Your privacy and data security matter. Microsoft Teams prioritizes security, offering robust measures to protect your information. Encrypted conversations and multi-factor authentication ensure that your efforts stay confidential and secure. 
Watch the following video to better understand what kind of devices your employees need in a remote working model.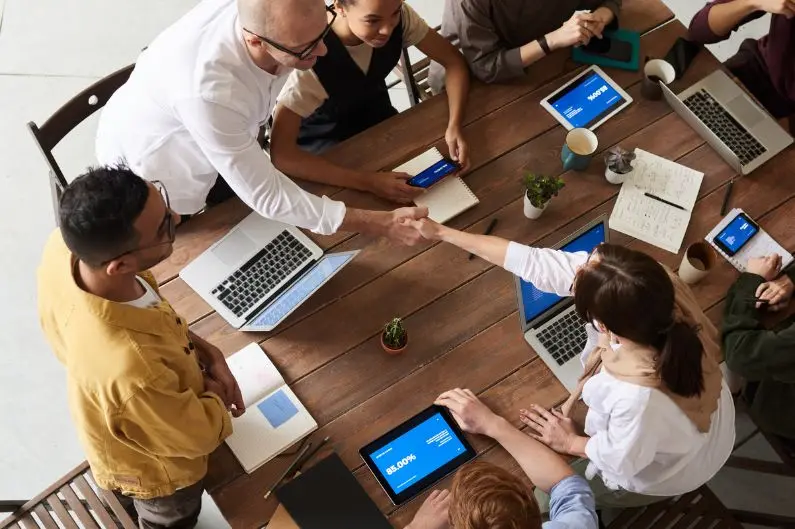 How can Microsoft Teams help streamline remote work?
Today remote work has become the new norm. The traditional office has transformed, and businesses are embracing virtual teams. Amidst this shift, Microsoft Teams stands out as a true game-changer. Teams provide an intuitive platform that empowers remote teams to collaborate. Erasing the physical distance between team members. 
As a business owner, Teams enables you to navigate the challenges of remote work with ease. This ensures that your teams remain productive, engaged, and connected. Here is how it can help: 
Seamless Communication: Remote teams can communicate through video and audio calls and chat. You can schedule virtual meetings. Share screens and collaborate as if you were in the same room. Distance is no longer a barrier!

 
File Sharing and Collaboration:

Teams provide a centralized location for sharing files, documents, and resources. Ending the hassle of version control and email attachments. It is teamwork made easy!

 
Project Management and Organization:

Teams allow you to create channels dedicated to specific projects or subjects. You can assign tasks, set deadlines, and track progress within each channel. This ensures everyone knows their responsibilities and helps keep projects on track.

 
Examples of successful collaborations with Microsoft Teams
Countless organizations have embraced Microsoft Teams and seen remarkable business collaboration. Here you have two examples: 
The iconic company has 160 locations and 6,000 team members throughout the UK. And it needed to enhance its workforce communication and collaboration. That is when Microsoft Teams came to the rescue. Boots Opticians digitized vital workflows and transformed team member experiences. Using Shifts in Teams, they revolutionized scheduling and enabled easy shift changes. They also implemented Microsoft Tasks to embed a culture of customer care. With this, managers can delegate specialized tasks and track progress in real-time. The anywhere-access capability of self-service tools has improved frontline staff experiences. The result? Boots Opticians has achieved enhanced customer care. Increased operational efficiency and a more empowered and satisfied workforce. Read more here. 
Another example? 
LRM has experienced real improvements in collaboration by implementing a hosted ICT ecosystem. The improvement began when they migrated away from a complex Citrix environment. They then moved many key business applications to the cloud. This transition enabled LRM to take advantage of the benefits of a full cloud-enabled infrastructure. This included faster and easier access to data, improved collaboration across a dispersed workforce and increased productivity. The introduction of Microsoft 365 and Teams also enhanced communication and collaboration capabilities. LRM also adopted a Microsoft Teams phone system, allowing team mobility. The result? Immediate operational cost savings and better data access. Read more here.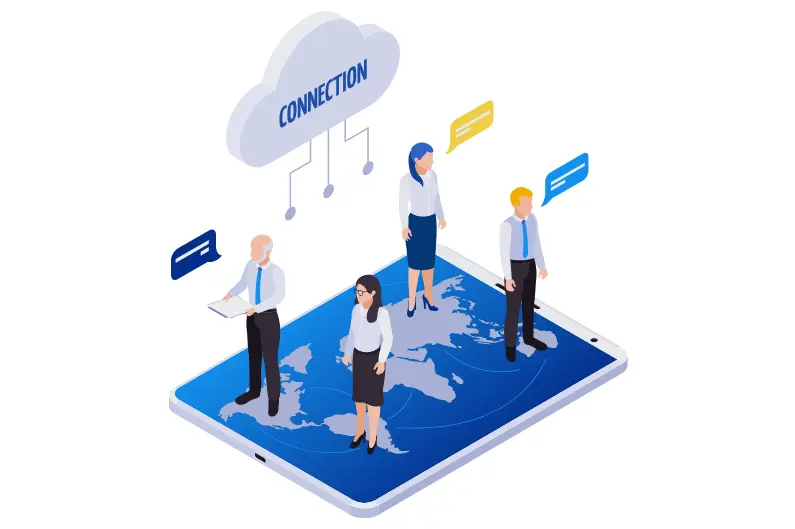 Tips for getting the most out of using Microsoft Teams
Enhance collaboration and streamline communication by adopting the full potential of Teams. Here are some valuable tips to help you make the most out of using Teams.  
Organize Your Teams and Channels. Create teams and channels that align with your projects or subjects. This makes it easy to find relevant information and collaborate efficiently.

 
Clear and Concise Communication. Use Teams' chat and messaging features for clear communication and avoid misunderstandings. Be concise and provide context when necessary.

 
Use Integrations. Take advantage of integrations with other Microsoft apps like Word, Excel, and PowerPoint. As well as external apps like Asana, Trello and Mailchimp. This allows you to edit documents, share files, and collaborate within Teams.
Microsoft Teams is a powerful collaboration tool that empowers teams to work together. No matter where they are. Use its features to streamline communication, boost productivity, and achieve remarkable results. We guarantee that Microsoft Teams is your secret weapon for your business successful collaboration.  
Are you ready to unlock the full potential of your team and maximize collaboration? Embrace the power of teamwork! Contact us today to learn more about how Microsoft Teams can help you reach your business goals!  
We want to hear about your challenges. Talk to us! Our consultants can audit your systems, plan changes, implement improvements and support your people. 
To give you confidence in our service, get to know us and how we work, contact us for your Free IT Audit.
The IT Audit 
Provides us with the information to assess the status of your systems.

Identifies any vulnerabilities and potential concerns.

Shows you how we manage your systems and report back.
We want to hear about your challenges. Talk to us! Our consultants can audit your systems, plan changes, implement improvements and support your people. 
Call us on 0118 920 9420
Email us  [email protected]