Product Review: Voyager 6200 UC
As part of our ongoing efforts to keep you informed and up-to-date on the latest technologies the communications industry has to offer, our team of experts are giving you their first-hand experiences with exciting new products.
BUY NOW AND RECEIVE £20 CASHBACK
Technical Product Review
Voyager 6200 UC
(available in black and beige color options)
Sound Quality: 8/10
With in-ear earbuds and active noise canceling (ANC) on if desired The Voyager 6200 does a great job at blocking out the background world around you. When you actually put on some music the sound quality is rich and rewarding however it doesn't deliver top end performance that the Voyager 8200 does. For calls the performance was as good as you can expect and didn't but a foot wrong.
Microphone Quality: 6/10
The beamforming twin microphones on the neckband do a good job in quiet spaces however in slightly noisier environments like an open plan office or coffee shops the performance left a bit to be desired. A couple of times I had to switch to my mobile handset to make myself understood. In these kinds of spaces it feels that the technology has a little way to come and for the time being I would use something with a more traditional microphone boom or the Voyager 8200 which performs better, potentially because of where the microphones are. On occasion the neckband slipped and one of the microphones ended up tucked under a scarf or collar which negatively impacted the quality, a swift re-jig soon sorted it out but it is worth being aware of particularly in winter!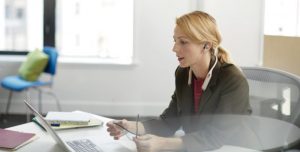 Durability/Quality: 7/10
The rubberised design and overall feel make the 6200 feel like a quality product however I do have some concerns about the long term durability of the cables that connect the ear buds to the neck band. Those cables will be under stress over time and it feels like a weak point. Only with long-term use will it be apparent if this is an issue or not.
Design: 8/10
The discreet neckband and ear pods make this a great headset/headphones when you are on the go, particularly as it won't mess up your hair or irritate your scalp (if you are worried about that). Choose from black and off-white options to suit your preference.
Connectivity: 8/10
The Bluetooth connectivity was faultless and with the USB dongle for use with a PC or Tablet does everything you expect. It might have been nice to be able to switch to 3.5mm at some points when battery was low but with the design I suspect it would be very hard to incorporate.
Battery Life: 7/10
The published playback time is 16 hours and unfortunately I didn't see that kind of lifetime, at the end of every day the Voyager 6200 needed charging. At no point did the battery run out during the day the battery time I experienced I saw was between 12 and 9 hours which is closer to 9 hours with is the published continuous talk time figure. You don't need to fear taking the 6200 out for the day however if you are a heavy user like me you might want to make sure you have the very handy little charging dock (Included as standard) and cable should it be needed.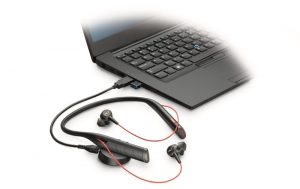 Suggested use case:
I would look at the Voyager 6200 if you need a professional headset and headphones combo that you can use for music and calling provided that your office is quiet and if not has quiet spaces for calls or you work from home.
Executive Summary/Overall: 7/10
Plantronics are starting to bring out a number of good quality devices that are both good for listening to music in the home, office or travelling between the two and will work as a good quality headset when you need it too. This device feels like it delivers on that promise and if you are looking for a discreet neckband headset this will do what you need provided you accept the limitations of the current microphone technology.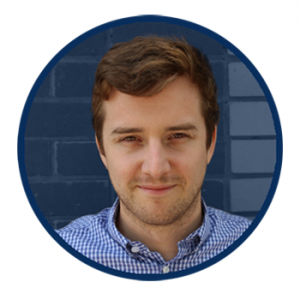 Voyager 6200 UC Product Review
by Chris Watling Director, CSUK